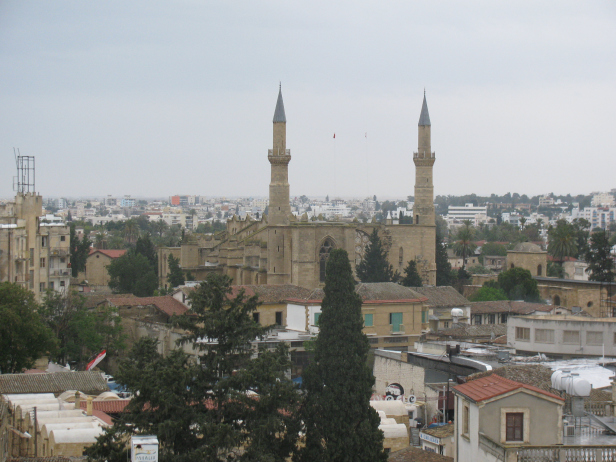 The Selimiye mosque, originally the Roman Catholic cathedral of Ayia Sofia, is the oldest, and one of the finest examples of Gothic art in Cyprus, the work of the French masons who accompanied the Crusades. The monumental main door and the carved stone window above it are of particular interest.
Construction began in 1209 during the reign of the Lusignan king Henry I, and lasted 150 years. There is evidence that it was built over the ruins of a much earlier Byzantine church called Hagia Sophia.
It was consecrated in 1326 while still incomplete, and the blunt-roofed bell towers were never finished.
Within its portals, Lusignan princes were crowned kings of Cyprus before proceeding to Famagusta for a second, essentially honorary, coronation as king of Jerusalem.
The cathedral was restored by the Genoese in 1373 and the Mamluks in 1426. The eastern section of the cathedral was destroyed by earthquakes in 1491, and further restoration work was undertaken by the Venetians.
When the Ottomans took the city in 1570, they destroyed the interior fittings, chopping up the pulpit and pews for firewood, and using the tombstones for flooring. Unfortunately, the more interesting tombstones are not usually visible as the floor is now covered with a large carpet. A pair of fifty metre high minarets were added to the incomplete bell towers, and an ablutions courtyard fountain with trefoil arched niches was constructed.
As a mosque, the church was renamed the Hagia Sophia Mosque, a name which it retained till 1954 when it was renamed the Selimiye Mosque.