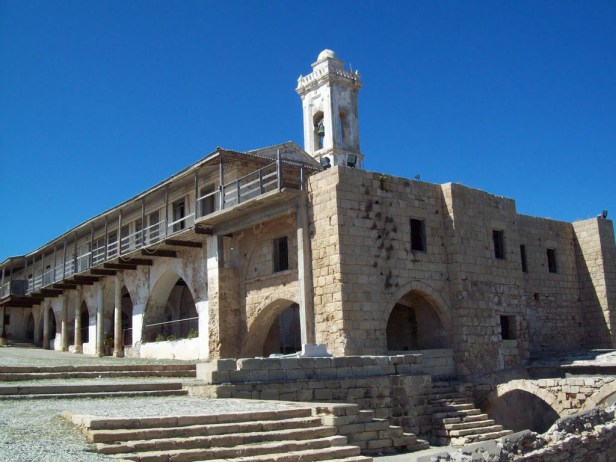 The traditional story of the monastery's founding says that, during a journey to the Holy Land, the ship transporting Saint Andrew went off course and struck rocks here. On coming ashore, Andrew hit the rocks with his staff, at which point a spring gushed forth. The waters proved to have healing powers and restored the sight of the ship's captain who had been blind in one eye. Thereafter, the site became a place of pilgrimage. A fortified monastery stood here in the 12th century, from which Isaac Comnenus negotiated his surrender to Richard the Lionheart. In the 15th century, a small chapel was built close to the shore. The church of the main monastery dates to the 18th century, while the main buildings are 100 years later.

Mass pilgrimage, however, is only comparatively recent, dating back to the 20th century. The story is told that in 1895 the son of Maria Georgiou was kidnapped. Seventeen years later, Saint Andrew appeared to her in a dream, telling her to pray for her son's return at the monastery. Living in Anatolia, she embarked on the crossing to Cyprus on a very crowded boat. Telling her story during the journey, one of the passengers, a young Dervish priest became more and more interested. Asking if her son had any distinguishing marks, and on hearing of a pair of birthmarks, he stripped off his clothes to reveal the same marks, and mother and son were reunited.

After 1974, very few pilgrims have visited the monastery, but with the opening of crossing points more pilgrims have come to see the monastery. The monastery has fallen into a state of disrepair in recent years, and UN funding is in place to pay for refurbishment.