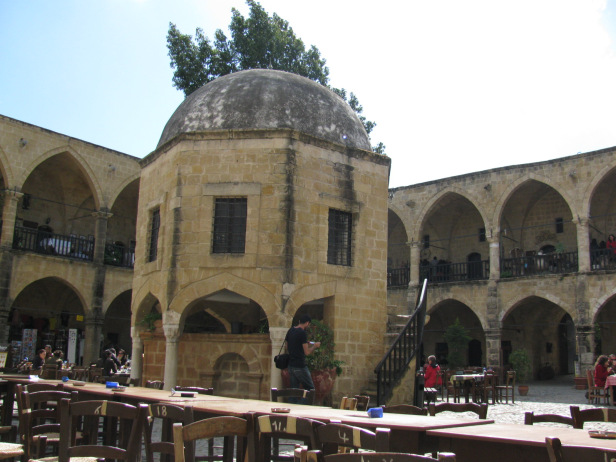 One of the most important architectural works of the Ottoman period, the Buyuk Han (The Great Inn) is located in the traditional market centre within the City Walls.
The Han, which was built to provide accommodation for travellers from Anatolia and other parts of Cyprus was originally named "Alanyalilar's Han". Later when a new inn, the Kumarcilar Han (Gamblers' Inn) was built nearby in the 17th century, as a result of the comparison made by the public between the two Hans, it was referred to as the Buyuk Han (Big Inn or Great Inn). The Han is similar to all the other Hans which can be found in the city centres of various Anatolian cities, although the Buyuk Han is unusual in having two entrances. It is worth noting, however, that there is a specially strong resemblance between the Buyuk Han and the Koza (Cacoon) Han in Bursa, Turkey which was built around 1490.
Externally, the Han resembles a fortress. Indeed during the old colonial days, the British used the Han as Nicosia Central Prison. The windows of Hans were always high up, partially to deter marauders who saw the rich merchants staying at the Han as a sources of easy riches, and partially because glass was very expensive.
From 1893 to 1961, the Han was used as a hostel for destitute families. Restoration began in 1963. The south colonnade was completely demolished and the south west corner rebuilt without any regard to the style of the original. After the events of 1963, restoration was halted for a number of years. However, after extensive renovations which took ten years, the Han was re-opened in it's original style to visitors in 2002, and is now one of the Island's finest buildings.
Beside the locals, Buyuk Han plays host to many tourists in Nicosia. Not only the cafes. but also various shops serve the visitors. Shawls, traditional handicrafts, paintings, pottery and carvings are among the many things on offer.
There are many social activities at Buyuk Han, either in daytime or at night. You can sip home made wine while listening to live music, you can listen to classical music within a concert in an authentic atmosphere, or even participate in a traditional wedding ceremony. There are folklore dance shows, piano recitals, drama shows and many others within the walls.